We have a great Season's Freshest for you this month, APPLES!
For starters we have the Wozniak Old Fashioned.  This cocktail was a huge hit the day we previewed the menu.  If you like ginger ale and apples mixed together you'll love this.  Trivia note, Wozniak is one of the founders of Apple Computers, if you saw the Steve Jobs movie he's the other guy.
Second we have Chicharonnes Nachos.  We buy pig skins and dunk them in our deep frier, these are just like the ones you can buy in the store but freshly cooked! We drissel apple butter and barbeque sauce over the whole thing and add some jalapeno bacon (yum!)  This would be a perfect snack or appetizer for you and your family.
Next is the Harvest Cobb Salad.  We loaded it up with everything good, bacon, blue cheese, pecans, a hard boiled egg, dried cranberries and fresh apples.  There are so many great items in this salad AND then we top it off with a avocado poppy seed vinaigrette.  It's the perfect amount of creamy and tangy and will send you over the moon!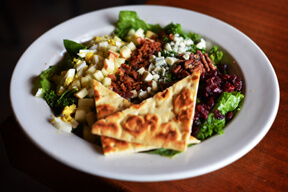 Then we brought back the Monte Cristo, with a twist.  We've heard how much our regulars have missed this one since we took it off our menu before summer.  So come back in and enjoy this version of your favorite.  This time we added our house made apple butter on the side, as if it wasn't good enough.  Also the bread we are using if from the FANTASTIC Great Harvest bakery.  This locally owned and operated bakery (but part of the Great Harvest chain) is so good.  The only activity we like better than making great food is supporting our local businesses and Great Harvest allows us to do both!  Visit them in person or on facebook to see how great they are.
Finally we have the Batali Pasta.  We are sticking with the cavatappi pasta for this one and adding Italian sausage, kale, garlic and onions.  Where are the apples?  Well we cover it with breaded deep fried apples (which could amazing all on their own) and douse it in an apple cream.  Sweet and savory, can't beat that!
So come on in and give it a try, all at once or bit by bit over the next month.  You won't be sorry!
(Check out our facebook page for pictures of each of the items!)